Someone else's poem for a change. A small gem.
Graceful Press Poetry
Tales we wove in travel
tempting fate with late-March
journey: dream-like gem of
giants' making, taking–
Sky-road, mist-blunt mountains,
murky, gray-hewn way by
age-fraught barrows brought us
brave to poet's graveside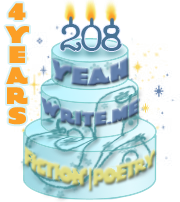 My attempt at a dróttkvætt for Yeah Write's April poetry slam.